Maxx Tooling
MX-QC50


EROWA® COMPATIBLE ER-034387 QUICKCHUCK 50 Stainless
This product is currently sold out.
Premium Erowa ER-034387 QUICKCHUCK 50 MAXX Brand, MAXX Brand seamlessly integrates with your existing Erowa ITS ER-034387 QUICKCHUCK 50 System
Version

 System size 50, manual, corrosion-resistant. (Equivalent to ER-034387)

Material

 Nippon stainless steel, 57-60HRC

Size

 56*56*36mm

Force power

 4000N

Attachment
 

4 x M8 from the rear or 4 x M6 stud bolts with nuts.

Included

 1pcs stainless steel handle

Application

 

On EDM/WEDM centers for light milling and grinding work.
System 3R®, Macro® and EROWA® company names are trademarks™ or registered® trademarks of their respective holders. Use of them does not imply any affiliation with or endorsement by them.
Accuracy and Repeatability
MAXX PREMIUM STAINLESS
EROWA ITS COMPATIBLE ER-034387 QUICKCHUCK 50
Repeatability: 0.002 mm (0.00008")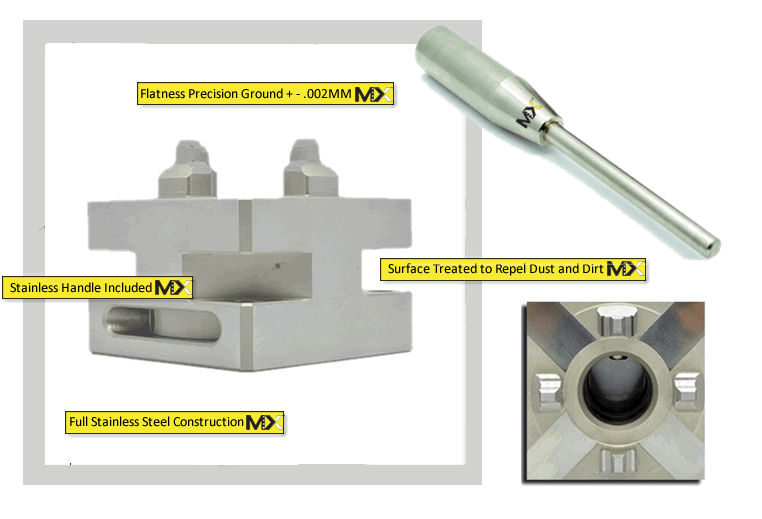 EROWA ITS COMPATIBLE ER-034387 QUICKCHUCK 50
Full Stainless Design with Durable Surface Finish
MAXX PREMIUM EROWA COMPATIBLE ER-034387 QUICKCHUCK 50
100% Compatible with your existing EROWA ITS Systems
Popular Maxx Erowa Pallets, Holders and Spigots
See Maxx Entire Erowa Catalog
See All
PREMIUM STAINLESS MAXX COMPATIBLE ER-034387 QUICKCHUCK 50
30 Days Return - 1 Year Warranty on Wear items and Lifetime on Casting