Maxx Tooling
MX-6061X70


MAXX BUDGET SYSTEM 3R® COMPATIBLE 3R-606.1 MASTER CONTROL RULER 70MM
This product is currently sold out.
The Maxx Version System 3R® 3R-606.1 Compatible  Control ruler, 70MM Macro compatible
For setting angular positions and parallel. No Center hole
Mounted on MAXX Premium  Stainless Steel compatible System 3R® 3R-601.7E-P Macro compatible HighPerformance Pallet Hardened Maxx Brand 3R-601.7E-P 70MM Macro compatible HighPerformance Pallet 
| | |
| --- | --- |
| Product Name |  MAXX Control ruler, Macro compatible 70MM NO CENTER HOLE |
|  Version | Rust proof |
|  Material |  stainless steel 420, 48-52HRC |
|  Mounting |  Mounted directly on the bottom of ITS Electrode holders for generating the high accuracy center |
|  Appllication |  light weight electrodes, use with ITS Electrode holder |
System 3R®, Macro® and EROWA® company names are trademarks™ or registered® trademarks of their respective holders. Use of them does not imply any affiliation with or endorsement by them.
MAXX BUDGET SYSTEM 3R COMPATIBLE 3R-606.1 MASTER CONTROL RULER NO CENTER
For setting angular positions and parallel only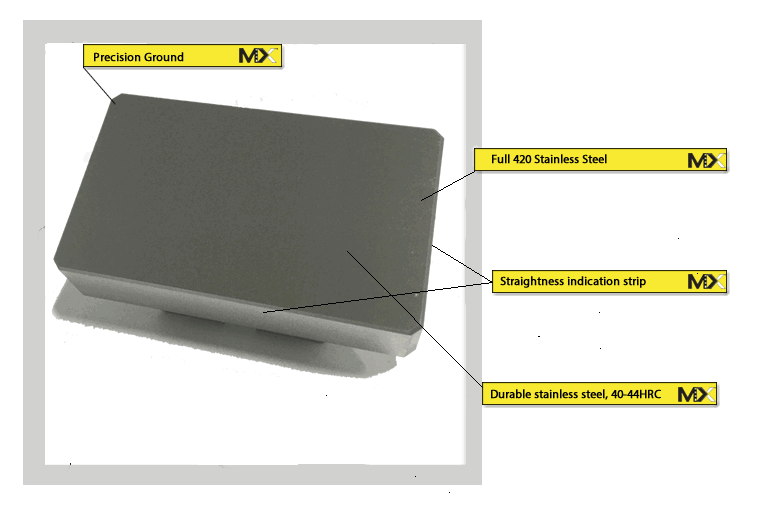 MAXX BUDGET SYSTEM 3R COMPATIBLE 3R-606.1 MASTER CONTROL RULER NO CENTER
100% Compatible with your existing System 3R Tooling
Popular Maxx System 3R Compatible Checking and Measuring
See Maxx Entire System 3R Compatible Catalog
See All
Order Your
MAXX BUDGET SYSTEM 3R COMPATIBLE 3R-606.1 MASTER CONTROL RULER NO CENTER
30 Days Return - 1 Year Warranty on Wear items and Lifetime on Casting